Simple Victoria Sponge Cake Recipe
Enjoy this basic sponge cake recipe -
it is delicious
This Victoria sponge cake recipe comes from my British friend. Her grandma always used this basic sponge cake recipe on Sunday when the grandkids came to visit. I can understand the grandma, since the cake is really great. Best of all, it is quick to make.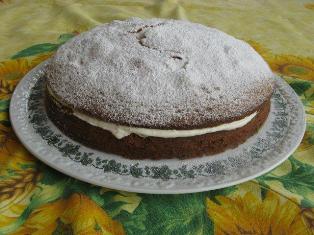 I like simple sponge cake recipes and I made this cake next to preparing Sunday dinner. That should really show you that this cake is a "piece of cake."
I have to admit that instead of using strawberry jam, I used black current jam since my daughter is allergic to strawberries. I even liked that maybe better, since the black current jam gave a nice sour contrast to the sweet cream and cake.
Well, whatever jam you like, you should really try this cake. It is easy and good. I hope that you will enjoy this Victoria sponge cake recipe.
Victoria Sponge Cake Recipe
For the sponge cake:
• 1 cup of butter (227 grams)
• 1 cup of sugar (200 grams)
• 2 cups of flour (300 grams)
• 2 teaspoons of baking powder
• 4 large eggs

For the filling:
• 1 cup heavy whipping cream (250 ml)
• 2 teaspoons of sugar
• 4 tablespoons of strawberry jam

Prepare the batter:
• Cream the butter until light.
• Add slowly the sugar.
• Add the eggs, one at a time, mix well.
• Add the flour and baking powder, mix well.
• Grease and flour two 8 inch cake pans. If you don't have room in your oven for 2 pans, then you can use one 26 cm wide spring pan.
• Bake 25 to 30 minutes if you use two pans, if one then the baking time is around 40 minutes.

Preheat the oven to 375°F (190°C)

Prepare the cake:
• Whip the whipping cream with the sugar until soft peaks form.
• If you used two pans, then level the bottom laver, spread with the jam and top with whipped cream.
• Place second layer on top of the filling.
• Sprinkle with powdered sugar.
• If you used one larger pan, then cut he cake into two layers, and proceed as above.
• The cake might be raised in the middle; it doesn't matter, since you only sprinkle it with powdered sugar. I actually like the version in one pan better, since then the jam and whipping cream have a better chance to penetrate the cake. Store in a refrigerator.

Enjoy this easy Victoria Sponge Cake Recipe


Click here to rate this recipe
Here is a comment to this recipe written by my visitors: "easy and straight forward"

Feb 4, 2011
Rating: Great
Did you enjoy this cake? YES
Were the directions easy to follow? YES
Jeniffer from Canada wrote: easy and straight forward!
---
Return from Victoria Sponge Cake Recipe to Sponge Cake Recipe
Return from Basic Sponge Cake Recipe to Easy Cake Recipes Homepage