Unique Birthday Cakes That Will Impress Your Special Someone
Easy cake recipe for a magnificent cake

There are few unique birthday cakes and this tangerine meringue torte definitely is one of them. This is a very nice cake, very refreshing, and simple to make, at least for a torte.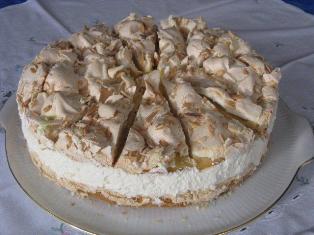 If you are looking for easy birthday cakes then this simple cake recipe delivers a great and unique cake that not everybody knows. With my pictures showing each step of the baking process, you will indeed see that it is easy and simple.
For this easy cake recipe you need to make a meringue crust. In order for it to bake properly, you need to use fresh eggs. If you use old egg whites, the meringue will be gooey and not crunchy. I have this recipe from my husband's aunt. This easy cake recipe is one of her best cake recipes. This torte is always on her table when she has guests.
She likes to bake between 2 to 3 cakes when she has family over, but the tangerines torte disappears always first. So, having said that, I hope I can convince you to try this out. I made plenty of pictures so that you can understand better how to make this meringue cake.
Enjoy this simple cake recipe for a unique birthday cake.
Unique Birthday Cake – Tangerine Meringue Torte
Shortbread recipe for the crust:
• 200 g flour (1 1/3 cup)
• 120 g butter (4.2 oz)
• 120 g sugar (4.2 oz)
• 5 egg yolks (fresh eggs)
• 1 tablespoon vanilla sugar
• ½ pack of European baking powder (2 teaspoons)

Meringue:
• 5 egg whites (fresh eggs)
• 220 g sugar (7.8 oz)
• 50-100 g almond stripes (1.8 – 3.5 oz)

Filling:
• 600 g cream (21.2 oz)
• 2 tablespoons vanilla sugar
• 2 cans of tangerines
• 3 packs of stabilizer for whipping cream (Dr. Oetker Whip-it Stabilizer for Wipping Cream 2's
) If you are using different brand, then please read the instructions on the packaging to establish the amount needed for 600g of whipped cream

Preheat oven to 180°C – 355°F

Prepare the shortbread crust:
• Knead the flour, butter, sugar, vanilla sugar, egg yolks, and baking powder to smooth dough. I recommend using the hook attachment on most mixers, but you could as well use your hands.
• Divide the dough into two.
• Roll the dough until ¼" or thinner on a Silpat Baking Sheet
, and if you don't have one, use wrapping foil. Flip the dough onto two forms 28 (11 inch) cm and 26 cm (10 inch) diameter. If you have different size forms, that is fine, just make sure that the second one is about 1 inch smaller than the other. Cover just the bottom; there is no need to cover the sides.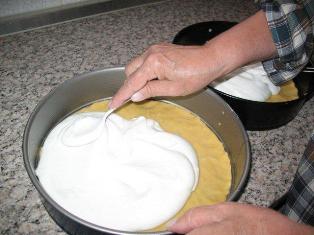 Prepare the meringue:
• Make the meringue by whipping the egg whites with sugar until the meringue holds stiff peaks.
• Spread the meringue onto the shortbread dough, make pointy peaks on it with a spoon, and sprinkle with the almonds.
• Bake the two cakes for 30 minutes at 180°C.

Present the cake:
• Cool off the meringue-shortbread plates.
• Cut the smaller cake with a bread knife into even pieces and save for later.
• Whip the cream with sugar, vanilla sugar and the stabilizer.
• Add the strained tangerines to the cream and mix gently.
• Place the bottom of the cake in a Deep Cake Setting Ring
, spread the cream-tangerines filling and cover with the cut pieces of the 26 cm cake.
• Store the cake in the fridge.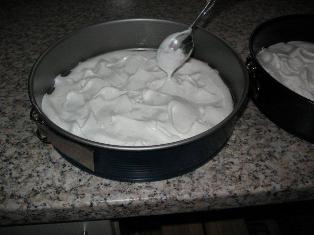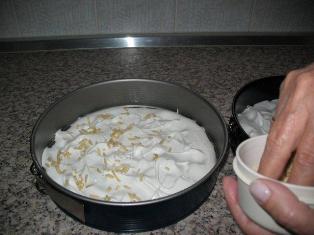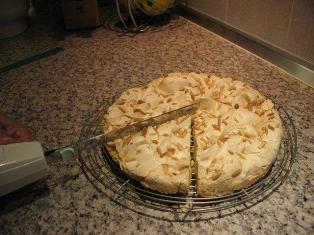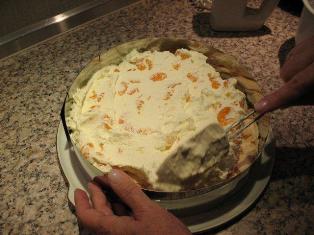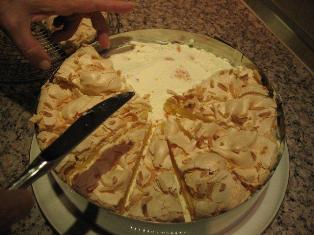 You can also make the bottom and the top one day before and you can put it together on the day the guest come to devour your delicious new creation. As there are quite a few unique birthday cakes, I hope that this one will end up on your table.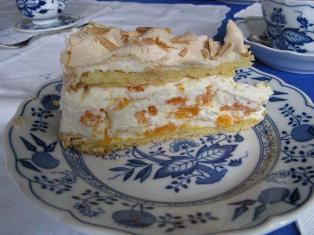 Click here to rate this recipe
---
Return from Unique Birthday Cakes to Best Cake Recipes
Return from Best Cake Recipes to Easy Cake Recipes Homepage