Easy Tiramisu Cake Recipe
Delicious recipe for strawberry cake - a perfect easy summer dessert
I have this tiramisu cake recipe from my husband's friend. His wife made this easy summer dessert once for a tennis tournament and we all fell in love with it. This recipe for strawberry cake became a runner during strawberry time.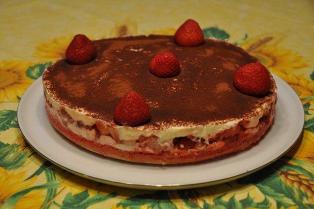 I strongly recommend you to try out this tiramisu cake recipe since it just melts in your mouth. One piece will never be enough. In addition, kids love this cake. It is much lighter than the traditional tiramisu and you can make it without alcohol.
If you are looking for easy summer desserts, then this recipe for strawberry cake is a must. It is easy to make and you end up with a great cake in no time. Your family and guest will devour it. I hope that you will enjoy this recipe as much as we do.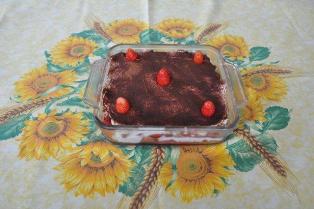 My husband doesn't eat tiramisu because he is scared of salmonella. I was never allowed to make it since nobody would eat it at home (what's the point, right?).
However, once I got my hands on this strawberry tiramisu recipe, tiramisu joined our household during strawberry season.
In addition, you can also make this tiramisu with raspberries. It tastes heavenly. I always make it in August, when strawberries are no longer available.
It might be even better than the strawberry version. Opinions on this are divided in my household. I would be very much interested to know what you think.
Enjoy this easy tiramisu cake recipe.
Tiramisu Cake Recipe with Strawberries
For the tiramisu:
• 200 g lady fingers (7 oz)
• 200 ml whipped cream (.2 qt)
• 1 pack of whipping cream stabilizer
(if available)
• 250 g mascarpone (8.8 oz)
• 50 g sugar (1/4 cup)
• 2 table spoons of lemon juice
• 1 table spoon of orange liquor (can be substituted with 2 spoon of orange juice)
• 500 g strawberries (1.1 lb)
• Cocoa powder

Prepare the tiramisu:
• Blend 150 g strawberries with lemon juice and orange liquor.
• Dip the ladyfingers in the mixture and place in a rectangular form neatly next to each other, filling the bottom of the form completely (preferably glass, so that you can see the layers).
• Take out couple strawberries and set aside for deco; quarter rest of the strawberries.
• Beat the cream with sugar and stabilizer until stiff, mix in the mascarpone.
• Spread a thin layer onto the lady fingers, then spread the cut strawberries onto that and then spread the rest of the cheese/cream mixture on top of the strawberries.
• Sprinkle with cocoa powder and decorate with the whole strawberries.
• Refrigerate for about 4 hours.



Alternative to the lady fingers bottom:
• 2 large eggs
• 75 g sugar ( ¼ plus 1/8 cup)
• 1 tablespoon vanilla sugar
• Zest from ½ organic lemon
• 65 g flour (2.3 oz)
• 15 g potato flour (0.5 oz)

Preheat the oven to 350°F (175°C)

Prepare the cake:
• Using an electric mixer, mix the eggs, sugar, vanilla sugar, and lemon zest until warm by placing them in a bowl, suspended over simmering water. Make sure that the water does not touch the mixing bowl.
• Move the eggs and sugar mixture to your tabletop mixer bowl and using the large whisk, beat them for at least 5 minutes or until it cools off.
• Once the mixture has cooled off, add the flour, the potato flour and salt. Mix in with a spatula or with the large mixing whisk for a couple of seconds.
• Pour the batter into a well greased and floured form (9" - 20 cm).
• Bake at 350°F for 15 to 20 minutes. Do not open the oven before the 15 minutes are up. Check for doneness with a long toothpick before you take out the cake.



Click here to rate this easy cake recipe
---
Return from Tiramisu Cake Recipe to Fruits Cake Recipe Collection.
Return from Cake Recipe to Easy Cake Recipes Homepage