Delicious Strawberry Tart Recipe
Need new strawberry tart recipes?
Try this easy summer dessert, you will not be disappointed!
My mom gave me this strawberry tart recipe when I asked for new strawberry cake recipes. I tried it and I have to admit that it tasted great. I am always looking for new easy summer desserts, so this strawberry tart was perfect.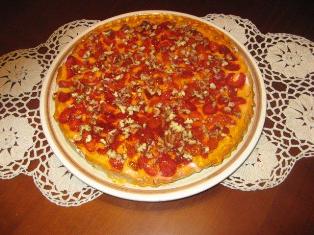 This cake is really great and you can make it all year round since it will taste great with raspberries, cherries and peaches or nectarines.
You can vary the additives such as nuts to raisins, or cranberries, or you can leave them out altogether.
I hope that you will enjoy this great strawberry tart.

Strawberry Tart Recipe
For the shortbread dough:
• 3 tablespoons butter
• 200 g flour
• 1 tablespoon sugar
• 3-5 tablespoons water

For the tart filling:
• 250 g quark or whipped cream cheese
• ½ cup of sour cream
• 100 g powdered sugar
• Zest from organic lemon
• 500 g (1 lb) strawberries
• ½ cup of chopped walnuts or pecans
• 1 pack of gelatin

Preheat the oven to 225°C – 437°F

Prepare the shortbread dough:
• Knead the flour, butter, sugar, and water to smooth dough. I recommend using the hook attachment on most mixers, but you could as well use your hands.
• Cover the dough with plastic foil and place it in a fridge for 30 minutes.
• Take the dough from the fridge and roll out until ¼" or thinner.
• Move the dough (24 cm) 10-inch tart form. Make sure to cover the sides of the form as well. Prick the dough with a fork, bake for 10 minutes at 225°C.

Prepare the strawberry tart:
• Beat the quark with sour cream, add sugar and lemon zest.
• Spread the quark mixture onto the baked tart shell.
• Clean the strawberries, stem them, and cut into quarters.
• Spread the strawberries onto the quark mixture and sprinkle with chopped walnuts or pecans.
• Prepare the gelatin according to the manufacturer's instructions.
• Pour the still liquid gelatin over the cake, refrigerate to set.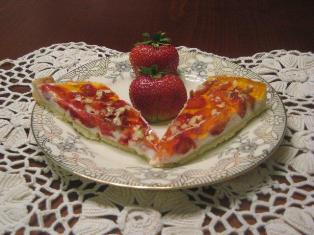 Click here to rate this easy cake recipe
---
Return from Strawberry Tart Recipe to Tart Recipes.
Return from Strawberry Tart to Easy Cake Recipes Homepage