Simple Cake Recipe for Cherry Tart
If you are looking for an easy cake recipe, then try this quick but delicious fruit tart recipe.
I have this simple cake recipe from my mom-in-law, who got it from her bridge friend. Apparently the friend did not want to share this fruit tart recipe with anybody.
She thought that since this cherry cake recipe is so easy to make, nobody would be impressed by it anymore. Well, she was wrong. I love this easy cake recipe since I can make it in 10 minutes. The crumbs are heavenly crunchy and the sour cherries make it not too sweet.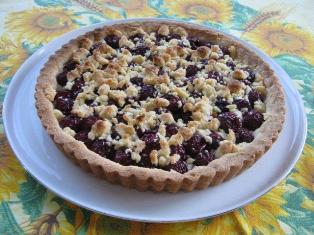 For this cherry tart recipe, you need sour cherries. I usually buy them in a jar since they are pitted, but you could use fresh ones as well. You could as well use frozen ones and defrost them in a microwave.
This is really a very quick cherry cake and what is best it does not involve rolling anything out, and no mixing in a mixer. It will be crispy and tasty. It takes 10 minutes to make plus baking time of 30 minutes.
I strongly recommend this tart to those who are short on time. Enjoy this fruit tart recipe.
Simple Cake Recipe
For the cake:
• 120 g sugar (4.2 oz)
• 2 table spoons of vanilla sugar
• 150 g butter (5.3 oz)
• 300 g flour (2 cups)
• 1 glass of cherries (around 500 g- 1.1 lb)

Preheat the oven to 200°C – 390°F

Prepare the cake
• Strain the cherries.
• In a pot, melt the butter, but don't cook it, add sugar, let it dissolve a little while mixing with a spoon on low heat.
• Take the pot off the heat and add immediately flour.
• Mix well using a spoon (it will be very thick).
• Press ¾ of the dough onto a round tart form, edges included (9 – 10 inches).
• Place the cherries onto the dough.
• Sprinkle the rest of the dough onto the cherries.
• Bake at 200°C for 25-30 minutes until the streusels (crumbs) are golden brown.



Click here to rate this easy cake recipe
---
Return from Simple Cake Recipe to Tart Recipes
Return from Simple Cake Recipe to Easy Cake Recipes Homepage