Pirate Ship Cake Recipe
Try my pirate birthday cake with detailed instructions and tips.
I made this pirate ship cake for my son's 7th birthday. He was very impressed with it. I never made a cake like that before, but I have to say that this pirate cake recipe made this whole ordeal relatively easy.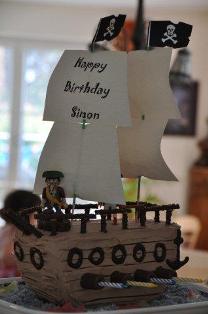 This pirate birthday cake was easy in the sense that you didn't have to know how to pipe flowers, or bows, or anything requiring some decorating skill.
It just took some time to make all the extra deco, but for cakes like that you always have to put extra work into it, so it was expected.
This pirate ship cake is made from two round cakes and plenty of chocolate candy as deco. You just cut the cakes in half; stack them together with icing in between. Cut the round edge off, ice the cake and decorate.
I strongly recommend baking the pirate ship cake a day ahead and freezing it. It makes it much easier to work with. The crumbs will not get into the icing and the cake will be more stable.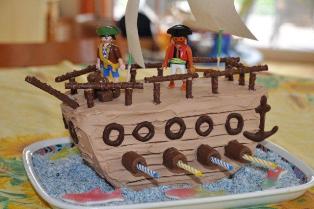 I hope that you will enjoy this pirate ship cake as much as I did and that the lucky recipient of the cake will be happy with his/hers pirate birthday cake.
Pirate Ship Cake Recipe
Chocolate butter cake for the pirate ship cake:
• 3 large eggs
• 2 ¼ teaspoon of vanilla
• 355 g of flour (2 ¼ cup plus 2 tablespoons)
• 300 g sugar (1 1/2 cup)
• 227 g of butter (1 cup)
• 63 g unsweetened cocoa (1/2 cup and 3 tablespoons)
• 250 ml of boiling water (1 cup)
• 1 tablespoon of baking powder (1 pack of European baking powder)
• ¾ teaspoon of salt (I leave it out)

Chocolate icing:
• 284 g of bittersweet chocolate (10 oz)
• 454 g of butter at room temperature (2 cups)
• 4 large egg whites
• 200 g sugar (1 cup)

You will also need for the pirate ship cake:
• Chocolate wafer sticks (ex. Pirouette cookies)
• Milk chocolate wafer rolls ( ex. Waffeletten cookies)
• Off white paper for the sails
• 3 or 2 10" wooden skewers
• Malted milk balls as cannon balls
• 50 g (1.8 oz) of bittersweet chocolate
• Gold coins (if you can buy them)
• Candy fish (if you can buy them)
• Blue food coloring for the water
• Shredded coconut for the water
• Plastic pirate figures if you have them at hand. I used Playmobil since we have plenty.

Preheat the oven to 350°F – 175°C

Prepare the cake:
• Whisk the cocoa and the boiling water in a medium bowl. Cool to room temperature.
• Combine the eggs, vanilla and ¼ of the cocoa mixture in another bowl.
• In a mixing bowl, mix on low speed the flour, sugar, baking powder and salt.
• Add slowly the butter and the cocoa mixture. Mix on low speed until the dry ingredients are moistened. Increase to higher speed and mix for 2 minutes to add texture to the cake.
• Add the egg mixture to the batter in 3 batches. Scrape the bowl after each addition.
• Beat the batter to incorporate the ingredients.
• Grease and flour two 9 "round pans. Divide the batter into two and pour into the pans.
• Bake the first pan at 350°F – 175°F for 25 minutes. Check with a skewer before taking the cake out. Once baked, place the other pan and bake again.
• If you have only one pan, then bake the first cake, wait 20 minutes for the cake to cool off, then and only then, take the cake out of the pan, clean it, grease it and flour it, and then bake the second cake.

Prepare the chocolate frosting according to the instructions on buttercream frosting recipe page.

Prepare the portholes and anchor:
• Break the chocolate into pieces and place in a metal bowl suspended on a pot with boiling water on very low heat. Make sure that the water does not touch the bottom of the bowl.
• Stir the melting chocolate.
• When 80% of the chocolate has melted, remove the pot from the heat and stir to melt the rest of the chocolate.
• Prepare a working top (ex. Cardboard or a cookie sheet lined with parchment paper).
• Fill a syringe (20 ml) with the melted chocolate and draw couple of circles and an anchor. I drew more than needed since I wanted to have backup in case one breaks. Place your drawing in a freezer for 1 hour so the chocolate can set and will be easy to remove.

Set up the pirate ship cake:
• I suggest placing the cakes in a freezer before working with them. I baked the cakes two days before the actual birthday, separated each layer with parchment paper, wrapped in foil and froze over night. The next day I made the frosting and finished the cake.
• Cut the cakes in half and layer then rounded sides all facing the same direction, adding a thin coat of icing between the layers. Place the cake in a fridge for 1 hour so the icing can glue the pieces together.
• Trim the bottom curves of the cake so that it could stand up. (If you don't have the time to place the cake in the freezer the night before or at least for couple of hours in a fridge, then you can use drinking straw to hold the cake together.)
• Cover the cooled cake with icing. Create planking lines along the hull with a butter knife.
• Depending on how much icing you used, you can either press the wafer rolls into the sides of the cake to create cannons, or cut off the part of the wafer that is not covered in chocolate and stick a piece of drinking straw in it and press that into the cake. I tend to go easy on the icing and used the help of the straws.
• Place the chocolate circles (portholes) on top of the cannons and attach an anchor to the side of the ship.
• To make the railing you have to find similar cookies like I used. If you use the pirouette cookies, then just place them on top of the ship to create the railing. You can slightly smear the long side of the cookie with the icing, and try to make the railing higher by stacking up the cookies on top of each other.
• Place some malted milk balls on the deck for the cannon balls. You can stack them by gluing them together with the icing.
• Cut the sails into trapezoid shape and slip them onto the skewers. You can add a pirate flag on the top or add a happy birthday line to the sail.
• Dye the coconut blue by placing the coconut into a plastic bag and adding a few drops of food coloring. Shake well.
• Place the fish on the water and you just made one of the coolest birthday cakes.
• Enjoy this pirate ship cake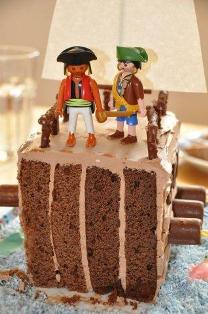 Click here to rate this great cake recipe
---
Return from Pirate Ship Cake to Easy Kids Birthday Cake Recipes
Return from Pirate Ship Cake to Easy Cake Recipes Homepage