Fresh Fruit Pear Tart Recipe
Try this fruit tart recipe, you will not be disappointed.
I have this pear tart recipe from my very first cook book. I still use it for all my tart recipes, since I find them really the best.
This fresh fruit tart recipe is my favorite and in autumn I buy plenty of pears, make the filling for this cake, and freeze it. This way I can make this fruit tart recipe very quickly.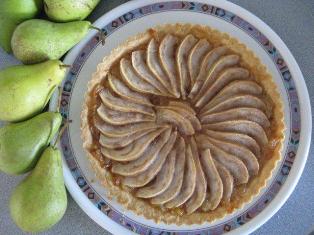 This Pear Tart Recipe is a runner in my family and I'm sure that once you make it, it will join your home as well. It takes a little more time then my other fresh fruit tart recipes, but the end effect is worth it.
Even my picky German uncle who likes to criticize everything told his wife to get that recipe. That was the biggest complement I ever heard from him.
For this fruit tart recipe you need to cut some of the pears into small pieces. If you want the pears to be cut evenly, I recommend using a gadget called the "Alligator
." This little device will make your everyday kitchen work much easier, when you need to chop onions, fruits, peppers, and anything else. I hope that you will find this tip helpful.
Make sure that the pears are ripe and tasty. If you use hard ones, the pears on the top will just shrink and the cake will not be easy to eat with a fork. You might need to use a knife.
I speak from experience, I did that once and it was not great. Anyway, use good ripe pears and enjoy my lovely pear tart recipe.
Pear Tart Recipe
Shortbread recipe for the crust:
• 150 g flour (1 cup)
• 100 g butter (3.5 oz)
• 50 g sugar (1.8 oz)
• 1 table spoon of cream
• Pinch of salt
• Butter to grease the form

For the filling:
• 1 kg pears (2.2 lb)
• Lemon juice from ½ lemon
• 150 g sugar (3/4 cup)
• 1 whole clove
• Pinch of ground cinnamon

Preheat the oven at 180°C – 355°F
Prepare the shortbread crust:
• Bake one tart crust using the recipe from shortbread recipe page. The instructions are on the bottom of the page. Use a 9" tart form
, preferably with a removable bottom.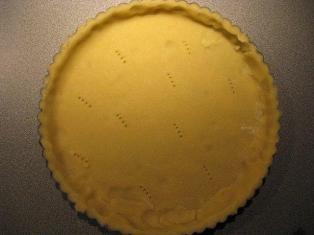 Prepare the pear filling:
• Peel the pears, remove the seeds, cut half in small pieces, the other into even slices and sprinkle with lemon juice. If you have large pears like "Abata," then you might need only to cut two into slices, the rest needs to be chopped. The juice prevents the pears from turning brown.
• In a frying pan, boil 200 ml of water with the sugar, clove and cinnamon, after 15 minutes take the clove out and add the small cut pears.
• Cook until most of the juice evaporates and the pears are thick.
• Pour the pears onto the baked bottom and place the pear slices on top.
• Bake 30 minutes at 180°C.

Enjoy this great rear tart recipe.
Source: "Najlepsze przepisy kuchni polskiej" by Marek Lebkowski.


Click here to rate this recipe
Here are pear tart recipe comments written by my visitors:

May 6, 2010
Rating:
Great
Did you enjoy this cake? YES
Were the directions easy to follow? YES
I have very short opinion: so easy - so good!!! Irena from the USA wrote: It is a little more laborious than the other Tarts but I did it already several times. It is so delicious that it is worthwhile to spend more time to do it. My grandchildren loved it and so do I.
---
Return from Pear Tart Recipe to Tart Recipes
Return from Pear Tart Recipe to Easy Cake Recipes Homepage