Delicious Chocolate Orange Cookies
Try these easy cookies from my collection of recipes for chocolate cookies.
I tried these orange cookies for the first time at my daughter's gymnastic class. My friend, who collects different recipes for chocolate cookies, brought them with her.
We usually sit on the bleachers and look at the kids while they do gymnastics. This time we had these tasty easy cookies with us and since I liked them so much, I baked them for my family the next day.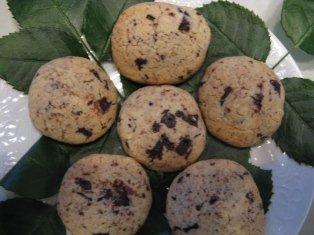 These easy cookies have candied orange peel in them, making them a little chewy. I make my own candied orange peel, but you can use as well the readymade one.
These cookies are similar to chocolate chip ones, but I find the forming process easier. The dough is drier, so you have to knead it, then roll it into long rolls which you freeze for a short time.
Once they are cold, you cut them into 1 cm thick round pieces. This way you will have nice even cookies, all same size.
I hope that you will enjoy these easy cookies as much as I did.
Chocolate Orange Cookies
For the cookies:
• 200 g flour (1 1/3 cup)
• 60 g potato starch (2.1 oz)
• 1 teaspoon of baking powder
• 100 g of sugar (1/2 cup)
• 1 European pack of vanilla sugar (1 tablespoon)
• 1 egg
• 100 g of candied orange peel (chopped) (3.5 oz)
• 125 g margarine (4.4 oz)
• 100 g dark chocolate chips (3.5 oz)

Preheat the oven to 180°C – 355°F

Prepare the cookies:
• Knead the flour, starch, baking powder, sugar, vanilla sugar, egg, chopped candied orange peel, and margarine to smooth dough. I recommend using the hook attachment on most mixers, but you could use your hands.
• Add the chocolate chips and mix well into the dough.
• Form rolls from the dough with a diameter of about 3 cm (1 inch).
• Place them into the freezer for 10 minutes, take them out and cut into 1 cm (0.4 inch) thick round pieces.
• Place them on a cookies sheet lined with parchment paper.
• Bake at 180°C (355°F) for about 10-12 minutes or until golden brown.




Click here to rate this easy cookies recipe
---
Return from Orange Cookies to Easy Cookies
Return from Orange Cookies to Easy Cake Recipes Homepage