Best Fudgy Marshmallow Brownies Recipe
See how to make brownies with this best brownie recipe
I have this best marshmallow brownies recipe from my school friend, who swore that they were great. I tried this fudgy brownie recipe and found it to be as good as he promised, so I posted it here.
After baking these marshmallow brownies, I realized that they are a variation of my regular chocolate brownies. They just have a layer of marshmallows in between the glaze and the brownie. This layer makes the brownies extra fudgy and just makes them taste delicious.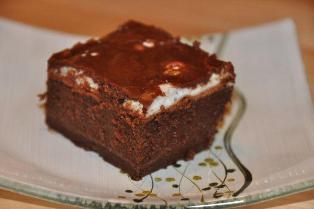 Once, my friend asked me how to make brownies. I told her that homemade brownies are made in same time as the ones from a cake mix. Really, it is just a matter of adding ingredients in a given order to one bowl. The only difference is that you have to have all the ingredients, but that way, you are making sure that the brownies taste good.
I think that the chocolate you use is essential to the taste of the brownie. If you choose chocolate that you wouldn't normally eat, then the brownies will not be good. If you buy a cake mix, you have no control over the chocolate quality, making the end product, average tasting.
Anyway, I think I made my point clear, and I really hope that you will enjoy this best marshmallow brownies recipe as much as I did.
Best Marshmallow Brownies Recipe
For the brownies:
• 2 tablespoons of cocoa powder (15 g)
• 5 oz. (140 g) of bittersweet chocolate
• 3 large eggs
• 1/2 cup (113 g) of butter
• 1 cup (200 g) of sugar
• 1 teaspoon of vanilla extract
• 3/4 cup of flour (100 g)
• 1/4 teaspoon of salt (I add much less)
• 1 pack of mini marshmallows, or regular marshmallows, cut into small pieces

For the chocolate glaze:
• 3 oz. (90 g) bittersweet chocolate, chopped
• 1 tablespoon of butter (14 g)
• 1/3 cup of heavy cream (80 ml)

Preheat the oven to 350 F (175 C)

How to make brownies:
• Place the chocolate and butter in a bowl suspended over simmering water.
• Stir the chocolate and butter until melted.
• Remove from heat and whisk in the cocoa powder, sugar, and vanilla extract.
• Using an electric mixer beat in the eggs.
• Whisk in the flour and salt.
• Pour into a buttered and floured 8" square pan (20 cm).
• Bake at 350 F (175 C) for about 30 minutes, or until a cake tester comes out with some crumbs on it. Do not over-bake the brownies, since then they will not taste as good.
• Take the brownies out of the oven and cover them with the marshmallows.
• Place them back into the oven for 2-4 minutes until the marshmallows melt. Do not allow the marshmallows to brown.
• Let the brownies cool off and prepare the glaze. Once the marshmallow covered brownies have cooled off, pour the glaze on top. Enjoy.

How to make the chocolate glaze:
• Place the chocolate in a stainless bowl.
• Bring the cream and butter to boil.
• Pour the cream over the chocolate and mix with a spoon until all the chocolate has melted.
• Cool to room temperature and pour on top of the brownies.



Click here to rate this best brownies recipe
---
Return from Marshmallow Brownies to Recipes For Chocolate Cake Collection.
Return from Marshmallow Brownies to Easy Cake Recipes Homepage