Alphabet Hazelnut Cookies
German Christmas Cookies Recipes
These hazelnut cookies are a hit with kids since one can make any letter you like with it. I made a 's' since the original recipe calls for it, but you can write whole names with it. If you use alphabet cookie cutters then you can really be creative.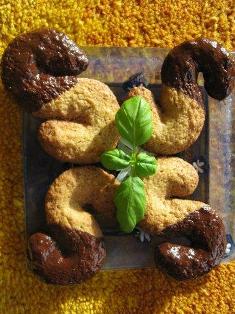 These hazelnut alphabet cookies are very crispy and very tasty. The hazelnut taste is not dominant; it is just a part of the alphabet cookie.
I did this cookie by hand, later coming up with the idea of using play-doh accessories to make nice even noodles. It is even easier to roll the dough out and cut them out with alphabet cutters. Of course, this tip helps you if you have kids that like to play with play-doh or you have specific cookie cutters.
If you don't have anything like this in your household, then you will have to form the cookies by hand. I hope that you will enjoy these very tasty and crispy hazelnut alphabet cookies.
Hazelnut Cookies (Alphabet Cookies)
For the alphabet cookies:
• 60 g flour (2.1 oz)
• 70 g sugar (2.5 oz)
• 60 butter (2.1 oz)
• 60 g grounded hazelnuts (2.1 oz)
• ½ egg
• 100 g melted chocolate (3.5 oz)

Preheat the oven to 180°C (355°F)

How to prepare the easy cookies:
• Knead all ingredients to smooth dough. I recommend using the hook attachment on most mixers, but you could use your hands.
• Form long noodles and make the letter S from it. If you have alphabet cookie cutters, then you have to roll out the dough and cut the cookies out.
• Bake for 15-20 minutes at 180°C (355°F) until brown.
• If you like to you can dip half of the cookie in melted chocolate.




Click here to rate these easy cookies
---
Return from Hazelnut Cookies to Easy Kids Christmas Cookies Recipes
Return from Alphabet Cookies to Easy Cake Recipes Homepage