Delicious Greek Cookies
Tasty easy orange cookies that are a must try!
My German friend gave me this recipe for these Greek cookies. She likes to make cookies from all over the world and these orange cookies made her best cookies recipes list.
I made them at home to see how they come out and they turned out to be really easy to make.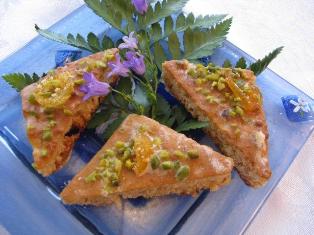 These easy orange cookies have candied orange peel as garnish. If you don't like it, you don't have to use it. I make my own candied orange peel and since I know where the oranges come from I used it as deco.
For these easy cookies you also need olive oil. I suggest using good quality oil, the same one you use for your salads.
I like these orange cookies since all ingredients go in one mixing bowl and there is no cutting out of cookies involved.
You just pour the cookie batter onto a large rectangular cake pan, bake, let it cool and cut into triangles.
That makes these cookies really easy to make. I hope that you will enjoy these easy cookies as much as I did.
Greek Cookies – Orange Cookies
For the cookies:
• 200 g flour (1 1/3 cup)
• 50 g grounded almonds (1.8 oz)
• 1 pack of European baking powder (1 tablespoon and 1 teaspoon)
• 35 g olive oil (1.2 oz)
• 6 tablespoons of honey
• 1 egg
• Juice from 1 orange
• 100 g powdered sugar (3.5 oz)
• 1 tablespoon of hot milk

For the deco:
• Candied orange peel
• Chopped pistachios

Preheat the oven to 200°C – 390°F

Prepare the cookies:
• Mix flour, almonds, baking powder with olive oil, honey, egg, and orange juice (save 2 tablespoons for later) into an even batter.
• Spread the batter onto a large rectangular cake form (around 40 x 35 cm- 15.7 – 13.8 inches).
• Bake at 200°C (390°F) for around 20 minutes.
Decorate the cookies:
• Cool off the cookies batter and cut in around 40 triangles.
• With an electric mixer, mix powder sugar with the leftover orange juice and the hot milk.
• Place one long piece of candied orange peel in the middle and sprinkle with chopped pistachios.




Click here to rate this easy cookies recipe
---
Return from Greek Cookies to Easy Cookies
Return from Greek Cookies to Easy Cake Recipes Homepage