Easy Gingerbread Cookies Recipes
Try my best cookie recipe!
There are many gingerbread cookies recipes and these best cookies are my favorite Christmas snacks. Maybe because they are not that sweet, maybe because they are small, nevertheless they are a hit in my home. They also fit the category of easy kids Christmas cookies since you can leave the cut-out work to the kids.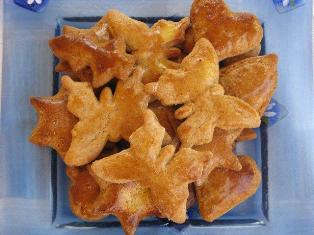 These easy cookies are simple to make but you need to allocate some time for them since you have to roll out the dough to 1 mm and then cut out small forms. The smaller the forms the more work you have, but I like them small since they fit nicely in the mouth.
It makes things easier of you have lebküchen gewurz-spice (that is the mixture of spices which you need to make these cookies). You should be able to buy it in Polish stores under the name of "piernik" spice or in German stores under the name of "lebküchen gewurz." I strongly recommend getting the mixture from a German or a Polish store.
Many gingerbread cookies recipes require honey. For this best cookie recipe I recommend to use good quality honey, since you really taste the difference if you use honey that is not so good.
I like forest honey. I know that it is pricey, but it makes the best cookies. You can also use regular flower honey, but still try to get a better quality one.
I once saved and used a cheap one. The cookies turned out to be just sweet; one tasted just sugar, not honey. Having said that, I hope that you will enjoy my best, easy, and crunchy gingerbread cookies.


Gingerbread Cookies Recipes (Caluski)
For the best cookies:
• 300 g flour (2 cups)
• 150 g honey (5.3 oz)
• 150 g sugar (3/4 cup)
• 50 g butter (1.8 oz)
• 10 g lebküchen spice
• 1 egg
• 5 g baking soda (.18 oz)
• Zest from one lemon (I leave it out)
• 1 egg to smear the cookies

To make the Lebküchen spice you will need:
• 2 teaspoons ground cinnamon
• 1 1/2 teaspoons ground cloves
• 1/2 teaspoon ground nutmeg
• 1/2 teaspoon ground ginger
• 1/2 teaspoon cardamom

Preheat oven to 170°C – 340°F

Prepare the easy cookies:
• Boil the honey and add to the flour.
• Add sugar, spices, butter, egg, baking soda, and lemon peel.
• Knead the dough until it turns smooth and elastic. The dough will be very sticky so you might need to use a little more flour, or if you make this in a machine, then when rolling it out, add a little flour to the part that you currently use.
• Once you knead the leftovers again, add a little of fresh dough, to make the dough more elastic and easier to roll out.
• Roll out the dough until 1/8'' thick and cut out the cookies (I roll it to 1 mm thin).
• Smear with egg so that after baking they will 'shine' a little. Bake at 170°C for 6-8 minutes until the cookies are brown.
• Cool them off and enjoy. You can store them for 2 months in a metal container. They will stay crispy and delicious.

These Gingerbread Cookies Recipes (Caluski)come from "Najlepsze przepisy kuchni polskiej" by Marek Lebkowski.



Click here to rate these easy cookies
---
Return from Gingerbread Cookies Recipes to Christmas Baking Recipes
Return from Gingerbread Cookies Recipes to Easy Cake Recipes Homepage