Easy Coffee Cake Recipe
Try this delicious coffee cake easy recipe next time you have guests!
This easy coffee cake recipe really is simple to make. This coffee cake easy recipe calls for meringue layers, which you can prepare ahead of time when you have egg white available. You can freeze the meringue layers until you are ready to use them.
Just make sure that you have enough room in your freezer for them, since you should not put anything on top because they will break.

This is a nice cake if you have guest. It is sweet and it has a good texture due to the two meringue layers. The cake is easy to make, it just takes some time to bake the meringue, but in the meantime one can make the cream filling.
If you don't like to make the cream yourself, you can use a readymade one form Dr. Oetker French Vanilla Mousse 2.66 oz
.
The idea behind the cake stays the same. The icing is made from whipping cream so the cake has to be eaten in maximum two days and that is why guests are helpful. There are many best coffee cake recipes but this one tops them all. I hope you enjoy this coffee cake recipe.

Easy Coffee Cake Recipe
For the meringue:
• 230 g powdered sugar (8.1 oz)
• 8 egg whites
• 1 teaspoon cream of tartar or 1 teaspoon of flour
Crème:
• 200 g butter (7 oz)
• 3 eggs
• 150 g powdered sugar (5.3 oz)
• 50 ml brandy (1.7 fl oz)
• 1 table spoon instant coffee
For the icing:
• 400 ml whipping cream (.4 qt)
• 30 g powdered sugar or more if you like (3.5 oz)
Edible coffee beans to decorate

Prepare the meringue layers:
• Whip the egg whites with 200 g (7 oz) sugar and the cream of tartar until stiff. The meringue is ready when peaks hold stiff.
• Preheat oven to 250°F, line 2 baking sheets with baking paper and trace two 10 inch circles.
• Transfer the meringue to a pastry bag fitted with a plain ¾ inch tip (it can also be a star tip) and pipe onto circles, filling them in.
• Smooth the meringues with a long metal spatula or knife. You can also make the circles by spreading the meringue freehand with a spatula.
• Bake the meringue plates for 1.5 hour to 2 hours. I make small meringues with the left over egg whites on the sides and after 1.5 hour simply eat one to see if it is crispy enough. They should be white, if they get brown, the temperature is too high.

Whip the whipping cream with 30 g of sugar and cool in a refrigerator.

Prepare the cream:
• Mix the brandy and coffee together and let it sit.
• Beat the eggs on a steam bath with the powdered sugar. The mixture should be off white and dense, almost as dense as meringue. Turn off the heat and continue to mix until it cools off. This process takes some time so calculate it in. It needs to have the same temperature as the butter.
• Beat the butter, add the cooled off eggs and slowly add the brandy coffee mixture. Taste the cream while adding the brandy, so that you can stop once you achieved a desired coffee-brandy taste.
• Put the cream to a refrigerator for 30 minutes.
• Smear the cream onto one meringue plate, cover with the other and frost with the whipping cream.
• Decorate with edible coffee beans. Cool the cake.

Option:
To make this truly an easy coffee cake recipe, you can use a readymade cream if you like for example from Dr Oetker.

This Easy Coffee Cake Recipe comes from "Najlepsze przepisy kuchni polskiej" by Marek Lebkowski.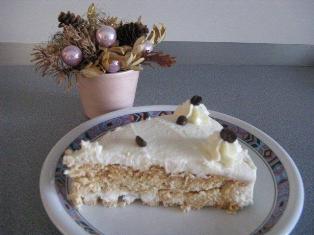 Click here to rate this recipe
---
Return from Easy Coffee Cake Recipe to Best Cake Recipes
Return from Coffee Cake Recipe to Easy Cake Recipes Homepage