Best Cinnamon Coffee Cake Recipe
Try this best coffee cake easy recipe next time you have guests over.
I made this best cinnamon coffee cake recipe for a Tupperware party. The guests loved it and some asked for this coffee cake easy recipe. I hope that you will also like it and serve it often to your coffee guests.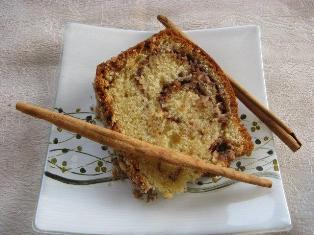 For this best coffee cake recipe you need two spoons of cinnamon, and that may seem like a lot, but it is not, so don't worry. The cinnamon does not overwhelm the whole cake, it makes it just perfect.
This coffee cake easy recipe makes a big cake, so don't try to fit it in a small baking pan. I baked this cake in a 28 cm (11 inches)Wilton Nonstick Fluted Tube Pan
and it was just right.
If you don't have a tube pan, you could easily bake the cake in a rectangular pan. The only adjustment would be the baking time and the fact that you would not be able to get the cinnamon-nut filling inside the cake. You would have to sprinkle it on top. Of course, you can bake it as well in a regular round form.
I really enjoy eating this cake with good cup of coffee or a cappuccino and I hope that you will also be happy with it.

Best Cinnamon Coffee Cake
For the cake batter:
• 225 g butter (2 sticks)
• 550 g sugar (2 ¾ cups)
• 4 eggs
• 2 teaspoons baking powder
• 1 teaspoon baking soda
• 500 ml (2 cups) of sour cream
• 175 g (6.2 oz) of chopped nuts (walnuts, almonds, hazelnuts)
• 2 tablespoons of cinnamon
• 2 teaspoons of vanilla extract
• 600 g flour

Preheat the oven to 175°C (350°F)

Prepare the cake:
• Using an electric mixer, mix the butter with 400 g (2 cups) of sugar until light and fluffy.
• Add the vanilla extract and one egg at a time. Make sure to mix well the batter. Scrape the edges of the mixing bowl to make sure that all ingredients are mixed in thoroughly.
• Mix into the flour the baking powder and baking soda.
• Add alternatively the flour and sour cream, mixing after each addition.
• In a separate bowl, mix the rest of the sugar (150 g – ¾ cup), nuts, and cinnamon.
• Grease a 28 cm – 11 inch tube pan and flour it.
• Pour 1/3 of the cake batter onto it, sprinkle with 1/3 of the cinnamon-sugar-nut mixture. Repeat layers two more times.
• Bake at 175°C (350°F) for about 70 minutes. Check with a long toothpick to make sure that the cake is done. Cool off the cake.
• Place a cake plate on top of the cake, invert and remove the cake pan.
• Enjoy.




Click here to rate this easy cake recipe
---
Return from Cinnamon Coffee Cake Recipe to Best Cake Recipes
Return from Cinnamon Coffee Cake Recipe to Easy Cake Recipes Homepage