Homemade Cheese Strudel Recipe
Try this recipe for a delicious homemade strudel
This cheese strudel is great and can be stored in a refrigerator for couple of days since the cheese filling keeps the dough moist and the lemon icing keeps the cake from drying out from the outside.
The strudel dough recipe yields two cakes, so you can use different strudel recipes and get two different cakes.
This homemade cake recipe truly gives you a feeling of home. There is nothing better than the smell of a yeast cake in the oven. Try it, you will see. It just gives you a welcoming feeling and makes a house a home.
On the other hand, maybe it just works for me. Maybe for you the smell of a homemade apple pie reminds you of home. I like yeast cakes.
Anyway, I really hope that you will enjoy my tasty cheese strudel cake.
Cheese Strudel
Prepare the strudel dough according to the recipe on strudel dough page.

For the cheese filling:
• 400 g quark
or 460 g ricotta and 40 g sour cream (14.1 oz)
• 4 egg yolks
• 40 g butter (1.4 oz)
• 100 g sugar (3.5 oz)
• 100 g raisins (3.5 oz)
• 3 spoons of candied orange peel, chopped
• ½ vanilla bean

How to make the strudel:
• While the cake grows, prepare the filling:
• Beat the egg yolks with butter, add sugar and cheese. If you don't have quark you can blend ricotta with sour cream. You can find out more about quark and where you can get it on my cheesecake recipe page.
• Cut the vanilla been lengthwise and scratch the inside with a knife.
• Add raisins, orange peel, vanilla, and mix with a spatula.
• Preheat the oven at 180°C – 355°F

• Continue to follow directions on the strudel dough page to bake and finish the cake.

Ice the cake with lemon icing (recipe found at the bottom of almond strudel )while still warm or you can cool it off and sprinkle it with powdered sugar.

Source: "Najlepsze przepisy kuchni polskiej" by Marek Lebkowski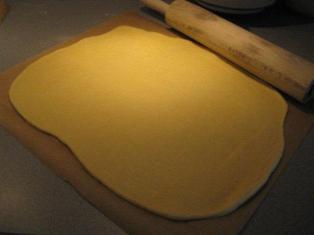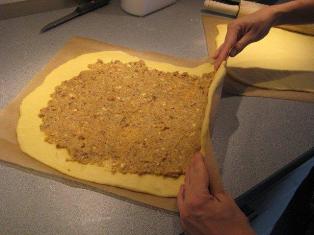 Click here to rate this easy cake recipe
---
Return from Cheese Strudel to Strudel Recipe Homepage
Return to Easy Cake Recipes Homepage