Easy Blueberry Cake Recipe
Experience this great blueberry tart recipe - it is delicious!
This blueberry cake recipe is an easy blueberry tart that can be made quickly, provided you have the ingredients. The bottom of the cake is based on my favorite easy shortbread recipe.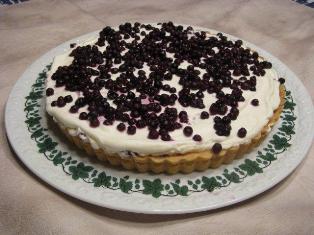 In addition, for this fresh fruit tart recipe you need some blueberry jam. I suggest using one that you like to eat on bread. I would not save on it, since you will taste it in the cake.
This is indeed a very easy blueberry cake recipe, but it needs to be made from fresh fruits. I recommend trying a few of the berries before using them in your cake.
They should be sweet sour, since the pastry itself is sweet just like the cream, so you need some taste contrast.
Blueberries have also plenty of micronutrients, making the cake vitamin rich since the fruits are not baked. Enjoy my 'healthy' and tasty blueberry tart recipe.

Blueberry Cake Recipe
Shortbread recipe for the crust:
• 150 g flour (1 cup)
• 100 g butter (3.5 oz)
• 50 g sugar (1.8 oz)
• 1 table spoon of cream
• Pinch of salt
• Butter to grease the form

For the filling:
• 400 g blueberries (14.1 oz)
• 2 table spoons blueberry jam
• 300 ml whipping cream (around 1 1/4 cup)
• 50 g powdered sugar (1.8 oz)

Preheat the oven at 180°C – 355°F

Prepare the blueberry cake:
• Bake the shortbread crust according to the instructions found at the bottom of shortbread recipe page. Use a tart form
(9.5 inch), if possible, with a removable bottom.
• Clean the blueberries and dry.
• Whip the cream with the powdered sugar until stiff.
• Smear the jelly onto the baked bottom and place half of the blueberries on top.
• Cover the blueberries with the cream and sprinkle the rest of the blueberries on top.
• Cover the cake with aluminum foil and place into a freezer for 40 minutes.
• Keep the cake in a fridge until ready to serve.

This fresh fruit tart recipe comes from "Najlepsze przepisy kuchni polskiej" by Marek Lebkowski.


Click here to rate this easy cake recipe
---
Return to Wheat Free Recipes

Return from Blueberry Cake Recipe to Tart Recipes
Return from Blueberry Tart Recipe to Easy Cake Recipes Homepage