Best Cheesecake Recipe as a perfect summer dessert and very easy to make.
Try this delicious and light easy cheese cake recipe!

This best cheesecake recipe delivers such a good cake; even skeptics of cheese cakes will love it. This easy cheese cake recipe is done in no time.
All one has to do is add the ingredients one at a time to the same mixing bowl. If you need easy summer desserts, then this cheesecake combined with fresh fruits (which taste best in summer), is a hit.
So, if you are looking for an easy recipe for cheese cake, look no further.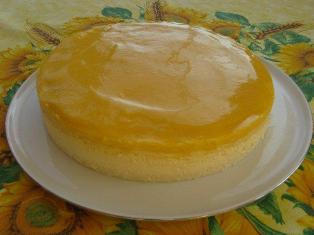 I'm not the biggest fan of cheesecakes, since they always fill me up completely, but I can eat this one with no regrets. It is so light that it just melts in your mouth.
You can make it on a cookie crunch or on a biscuit bottom. I like it best plain, without any bottom. If you choose to make it without any bottom, make sure to cool the cake long enough, before opening the spring form and moving the cake.
Once, I didn't wait long enough, and the cheese cake collapsed, leaving me with a pretty big mess to clean up.
This easy cheese cake recipe uses plenty of sour cream, which makes this cake especially light. I live in Germany and the sour cream here has 10% fat content, making this cake very moist.
With the help of a cake setting ring, I had to squeeze the water out of the cheesecake. You can avoid doing that by adding corn starch or using sour cream with higher fat content.
I just have to say that without the starch this cheesecake was the best cheesecake I have ever eaten. Enjoy this best cheesecake recipe.

Best Cheesecake Recipe
Cheesecake filling:
• 16 oz of cream cheese (454 g)
• 1 cup sugar (200 g)
• 2 tablespoon of cornstarch (optional)
• 3 large eggs
• 3 tablespoons of lemon juice
• 1 ½ teaspoon of vanilla extract
• 3 cups of sour cream (726 g)

Lemon topping (optional):
• 4 large egg yolks
• 125 g of sugar (1/2 cup plus 2 tablespoons)
• 100 ml lemon juice (3 fl. oz.)
• 57 g butter (4 tablespoons)
• 2 teaspoons of freshly grated lemon zest (4 g)

Preheat the oven to 350°F (175°C)

Prepare the easy cheese cake:
• Beat the cream cheese and sugar until very smooth. I like using the whisk beater.
• Add corn starch, if you like.
• Add eggs, one at a time, scraping the sides of the mixing bowl after adding each one.
• Add the lemon juice and vanilla, and beat until well mixed.
• Add the sour cream, mix until just incorporated.
• Wrap the outside of the 8 inch spring form pan with aluminum foil.
• Pour the cake batter onto the greased pan.
• Place the aluminum foil wrapped pan into a large oven proof pan. Pour hot water into the large pan until it reaches ½ inch up the sides of the pan.
• Place both pans into the oven and bake for about 45 minutes.
• Turn off the oven and leave the cake in it for 1 hour to slowly cool off. • To test for doneness, gently shake the pan. The top of the cake should move as one solid piece. There should be no soapy movement in center.
• Remove from oven to cool completely. Refrigerate for 12 hours. Cake will set completely when refrigerated.

Prepare the lemon topping:
• Beat the yolks and sugar until they turn light yellow.
• Place a strainer suspended over a bowl next to the stove.
• Transfer the sugar-yolks mixture to a sauce pan with a heavy bottom.
• Add the lemon juice and butter and cook over medium low heat, stirring constantly.
• Cook until the mixture thickens, resembling sauce hollandaise.
• Strain the mixture.
• Add the lemon zest and pour while still warm over the cooled off cheesecake.
• I used a cake setting ring as help, but you could try to do it without.
• If you like, you could also try to glaze the sides of the cake.
• Enjoy this delicious recipe for cheese cake.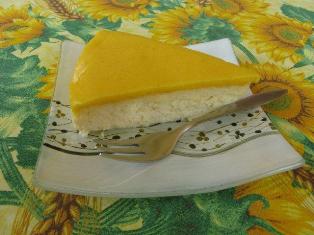 Click here to rate this easy cake recipe
---
Return from Best Cheesecake Recipe to Cheese Cake Recipes
Return from Best Cheesecake Recipe to Easy Cake Recipes Homepage